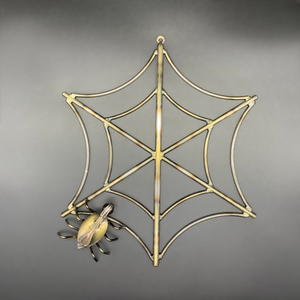 Halloween lovers rejoice! Spiderwebs are a spooky staple for your Halloween decor! This beautiful and elegant solid metal spiderweb is the perfect way to add a witchy-vibe to your home.
This is one spiderweb you won't want to get rid of, whether you like spiders or not!

One-of-a-kind
Handcrafted rod web with a spider made from rod, repurposed silverware, and a ball bearing.

Measures approximately 13" tall and 11" wide.
Easy and ready to hang.

Flame painted to create the beautiful coloring
Treated with a clear coat to lock in the coloring and to protect and preserve the finish of the metal for many years of enjoyment.

Flame painting is an intentional heating/painting of the metal with a torch to bring out a range of colors based on the temperatures reached. The coloring will be different each time, and it is impossible to replicate the coloring of a previous creation.
PLEASE NOTE: The spiderweb shown in the item images was photographed in either natural sunlight or in a professional photo light box, which shows the colors far more than in regular incandescent lighting inside.