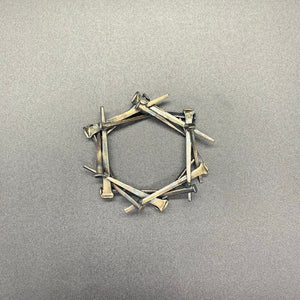 This beautiful crown of thorns ornament is a powerful reminder of Christ Our King and his sacrifice for us. This ornament would look beautiful hanging in a window, and it makes a special gift for the religious loved one in your life.
The crown of thorns is made from 2" antique carpenter nails, and it measures approximately 3.25" in diameter. The beautiful colors on the nails are created with heat from Jason's welding process. Each piece is treated with a clear coat to lock in any heat coloring and to protect and preserve the finish of the metal.
Each one is unique due to handcrafting, welding, and the nails used. No recreation will ever be identical, but the overall design/look will be very similar.
Images shown are of previous creations.
Made Upon Order:
When this creation is not ready made for immediate adoption, you will be given the "Made Upon Order" button instead of the "Add to Cart" or "Buy Now" buttons. This helps to designate a creation or variant (color, style, size) of a creation that will made just for you after you place your order.
Your crown of thorns would be made upon your order with an estimated 4 week completion time, depending on our current order load at the time you place your order.
Please note, if you order both a ready made item and a made upon order item, your order will not be fulfilled or shipped until all creations are ready.
The Crown of Thorns is the perfect companion piece for the also perfect cross. You two are AWESOME