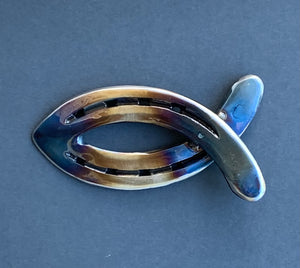 This stunning handmade horseshoe fish, also know as an Ichthys or the Sign of the Fish, makes a wonderful gift that the recipient will be proud to display in their home.
Crafted with steel horseshoes.
Measures approximately 5" wide and 3" tall.

Easy to hang/display using the existing nail holes in the horseshoes and small finishing nails.

Flame painted to create the beautiful coloring
Treated with a clear coat to lock in the coloring and to protect and preserve the finish of the metal for many years of enjoyment.
Flame painting is an intentional heating/painting of the metal with a torch to bring out a range of colors based on the temperatures reached. The coloring will be different each time, and it is impossible to replicate the coloring of a previous creation.
PLEASE NOTE: The fish/Ichthys shown in the item images were photographed in either natural sunlight or in a professional photo light box, which shows the colors far more than in regular incandescent lighting inside.
Every Main Street Metal Works creation is individually crafted. No recreation will ever be identical due to the availability of materials and handcrafting, but the overall design/look will be very similar.
Images shown are of previous creations.
Made Upon Order:
When this creation is not ready made for immediate adoption, you will be given the "Made Upon Order" button instead of the "Add to Cart" or "Buy Now" buttons. This helps to designate a creation or variant (color, style, size) of a creation that will made just for you after you place your order.
Your fish/Ichthys would be made upon your order with an estimated 4 week completion time, depending on our current order load at the time you place your order.
Please note, if you order both a ready made item and a made upon order item, your order will not be fulfilled or shipped until all creations are ready.