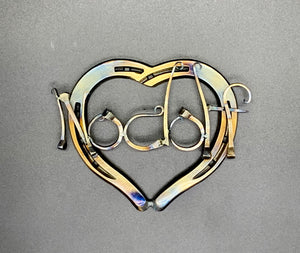 The options for our custom horseshoe nail word art seem to be endless!
Last names are the perfect wedding gift.
How about your pet's name or a stall sign?
Inspirational words make great gifts for any occasion or for yourself.
Humorous words or even phrases are great for those with a sense of humor.
First names are adorable for decorating a kid's room.
This also looks stunning on the card/gift table at your wedding or even as an accent on your family or wedding photo wall.

Your custom name or word will be created just for you using horseshoe nails and mounted to a horseshoe heart for the perfect way to display your custom piece. The actual measurement will vary depending on the word and number of letters. 
Just select the number of letters in your custom word, name, or phrase from the drop-down box, and enter the actual word, name, or phrase you want created in the Notes section of Checkout. Be sure to check your spelling (autocorrect likes to change some words).

Each one is flame painted and treated with a clear coat to lock in the coloring and to protect and preserve the finish of the metal.

Each one is unique due to handcrafting, welding, coloring, and the availability of materials. No recreation will ever be identical, but the overall design/look will be very similar.
Images shown are of previous creations.

Made Upon Order:
Because this creation is not ready made for immediate adoption, you will be given the "Made Upon Order" button instead of the "Add to Cart" or "Buy Now" buttons.

Your custom word or name will be made just for you upon your order with an estimated 4 week completion time, depending on our current order load at the time you place your order.
Please note, if you order both a ready made item and a made upon order item, your order will not be fulfilled or shipped until all creations are ready.